Why make a donation to microStart?
Help us to start-up and support small local businesses in your surroundings in order to contribute to the social and economic development of your neighbourhood, your city and your country. Join us in our fight against poverty and unemployment.
Our slogan: "microStart helps those who have more ideas than money"
82% of your donations are directly allocated to coaching and training for entrepreneurs, supported by microStart
Pass on your knowledge: you can become a volunteer at microStart

Controlled and certified donations:

the accounts of microStart Support asbl are controlled by the association's treasurer and certified by an external audit firm PWC. Our accounts are published on the website of the National Bank of Belgium.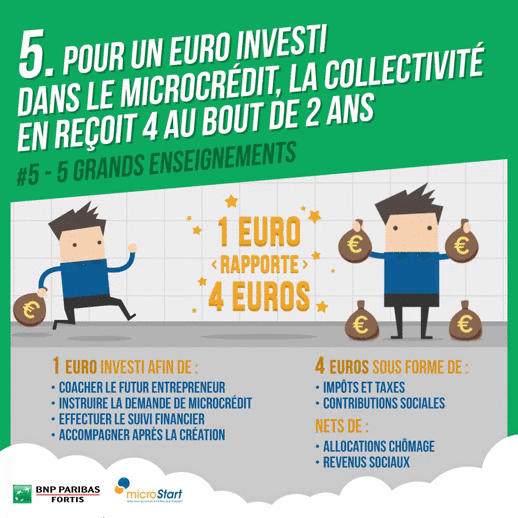 We suggest that you make a donation to microStart to help us finance the following activities;
40 euros:

One hour of individual coaching

100 euros:

Support for the design of a business plan

250 euros:

Six half-days of training to prepare for the management access exam

500 euros:

You allow an entrepreneur to start a business

1000 euros:

You allow an entrepreneur to start up and benefit from full support for two years.
How to make a donation to microStart ?
You can transfer your donation to the microStart Support account by specifying the reason "Donation microStart".
IBAN : BE38 0016 5321 7072
BIC : GEBABEBB
Communication : Donation microStart
How will your donation be used?
Donations sent to microStart are only used to carry out workshops, coaching sessions or training sessions for unemployed people who wish to create an economic activity, or for self-employed people who are in the process of developing their business.
The different coaching or training sessions are given by volunteers but require adapted infrastructure and equipment in order to remain as professional as possible.
Help us make their dream come true by supporting microStart.
Our vision: Every man and woman, regardless of their education, income, origin or social status, has the capacity to become an entrepreneur, and the right to economic initiative, which gives them the opportunity to take their future into their own hands.
What is the impact of microStart on our society?
From 2011-2017, microStart has welcomed 16,504 people and granted nearly 3,748 loans, creating 1800 new jobs. The 5 main conclusions
microStart reaches its target audience
84% have a job two years later.
A 75% starter sustainability rate
Each entrepreneur funded by microStart creates 1.6 jobs
For every euro invested in microcredit, the community receives 4€ after 2 years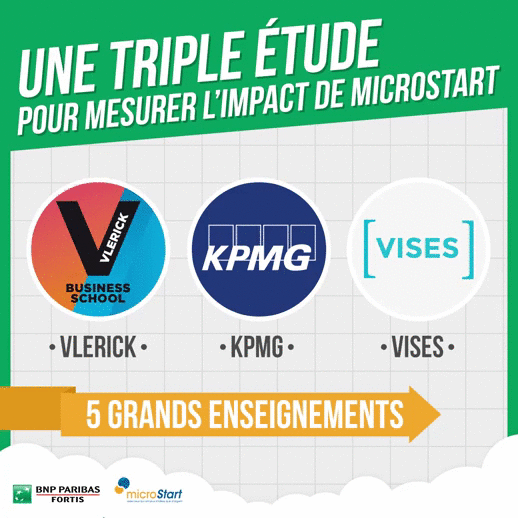 Who are our beneficiaries?
"It's as if coming accross microStart was part of our destiny. microStart has made it possible for us to start in good financial conditions with "Lokaal". One of their coaches also made sure that we could efficiently use the amount granted and that we were able to manager our organisation in a structured and efficient way."
Arno , restaurant owner à Gent
About microStart
microStart is a social purpose SCRL that finances start-ups or expanding businesses through microcredit. The entrepreneurs have everything they need to succeed: idea, creativity, dynamism, the entrepreneurial spirit, … Unfortunatly they lack access to traditional banking products. microStart grants microcredits ranging from 500 to 15,000€.
The cooperative stands out for its reactivity and proactivity, respect for the relational between client and advisor and innovation. The financing component is supported with business development services , which are essential to ensure the feasability and sustainability of the activities. This is executed by volunteers. In this way we can offer a professional service adapted to the needs of customers, without asking additional compensation.
Our association is audited annually by a company auditor and every two years by the Ministry of Finance.
Protection of your personal data
In accordance with article 9 of the Law of 8/12/1992, relating to privacy, we inform you that your details are included in a computerised process, which is the exclusive property of microStart. Your details will under no circumstances be communicated to third parties. You have the right to access, correct or delete your personal data at any time.